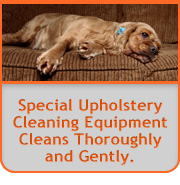 Upholstery Cleaning
Upholstery cleaning not only cleans and purifies your upholstery, it also maintains and prolongs the life span of your fabrics, furniture, and even auto upholstery. Carpet Cleaning Orange County offers several cleaning methods which target the dirt and bacteria inside your upholstery as well as refreshen and reliven the color and texture on the outside.
Dry Upholstery Cleaning
Dry foam cleaning furniture upholstery is exactly what is sounds like. Using specially formulated foam, professional technicians rub and spread the foam cleanser while it extracts all of the bacteria and allergens that have gathered deep in your upholstery fibers. The foam is effective and does not damage or weaken the fibers of your upholstery; in fact, it works around them and through them to extract all of the unwanted bacteria.
Need A More Powerful Clean?
Hot water extraction employs industrial strength machinery and is the most powerful cleaning methods available today. Unlike dry cleaning, which works around (clean) upholstery fibers, the steam and cleaning combination attack the upholstery fibers directly, resulting in the removal of every single invisible bacterial or dirt pathogen residing in your upholstery and even your mattresses. The process is more intense than the dry cleaning method, which is why it is suited for dirtier and stained upholstery.
Not Sure Which Method Is Best?
Our trained cleaning professionals have years of experience behind them and can identify any kind of upholstery fabric as well as its most suitable cleaning option. You can trust our cleaning pros or even get a second opinion if you choose.
For more information on getting your free price estimate or to schedule an appointment, call us at 714-453-9346 today!