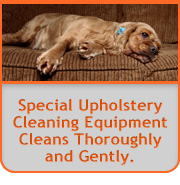 Furniture Cleaning Orange County
Your furniture takes the brunt of a lot of your daily activity. Pizza parties on Superbowl Sunday, slumber parties for the kids, a sleeping spot for the pup, etc. If you take a moment to think about all the food, hair, melted crayons, and lost socks hidden under your cushions and in the deepest corners, you might come to realize that you should have had your furniture cleaned a while ago. Some homes have giant leather couches while others skip the sofa and opt for bar stools instead. All these comfort pieces are created from different fabric types and materials and there is no one cleaning solutions that can fit them all. Hippo Cleaning Services offers an exciting furniture cleaning package that can fit anyone's budget. While you're having your carpets cleaned, why not go for a comprehensive clean and have your furniture treated as well?
Steam Cleaning Furniture
Steam cleaning is an appropriate method for most fabrics and is doubly beneficial because it not only creates a just new look, it also extracts any existing debris inside your furniture so the end result really is just like new! What a perfect treat for next year's Superbowl!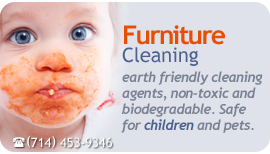 Our leather cleaning option uses a very specific kind of cleaner that both cleans and moisturizes at the same time. This will help heal any current dry cracks your leather might have into addition to helping delay any future drying as well. And don't worry about any harsh chemical smells, all of our products are totally green!
Office Furniture Cleaning
You remember that study that concluded that money and keyboards were the filthiest items one could come into contact with? We certainly remember it, that is why we have created a cleaning option that focuses on computer desks and chairs. With the amount of time we sit in front of the computer working or playing solitaire, it's only natural that bacteria will begin to form. No worries, our cleaning service is quick and discrete. You'll love it, we guarantee it!
Have we not mentioned an item you need cleaning? Call us at 714-453-9346 to find out if we can help you out. We almost always can!